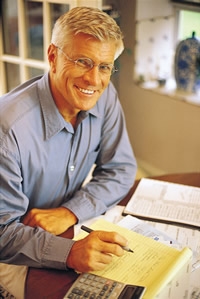 Getting a Home Mortgage in Boise, ID Doesn't Have to Be Difficult
A home loan application involves a number of steps. Each phase requires careful execution to ensure you get the best loan available.
At First Mortgage Company, we designed our application process to keep your home mortgage in Boise, ID on schedule for a smooth closing. As a mortgage banker, we process, underwrite, and close loans right here in our office.
As we hit major milestones in your loan process, we provide you with clear and timely communication on the status of your loan application. Below is a guide to help you understand our process.
Pre-qualification
Your ability and willingness to repay your loan determine the size of mortgage you qualify for. At First Mortgage Company, we look at your ability to repay the mortgage based on your monthly income and credit report.
Application
Within three days, you receive documents outlining your mortgage program, fees, and estimated closing costs for your loan.
Processing
Our loan processor orders a credit report, a title report, and an appraisal. You must provide bank statements, W-2's, paystubs, and other information before we can approve the loan.
The Appraisal
An appraisal uses research and market data to determine the estimated value of your property. An appraiser looks at the site, amenities, and physical condition of the property.
Underwriting
Once our processor compiles and verifies all documentation, they send your application to an underwriter. Our underwriter determines if the loan is acceptable.
Closing
Once the loan is approved, our closing officer schedules a time for you to sign the loan documentation and pay required closing cost s. The loan is funded and final disbursements are made.
Summation
A typical mortgage in Boise, Idaho, takes between 14-21 business days to complete.
First Mortgage Company is ready to work with you. Contact us at 208-376-5670 or apply online today.