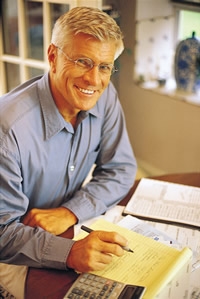 One of the most important steps to homebuying is to get a mortgage loan. New home loan purchases can be complicated, but our loan officers make the process simpler and more enjoyable.
At First Mortgage Company, we draw on almost three decades of experience to assist our clients with new home purchase financing. As our name implies, we should be your first choice for home loan purchases in Boise, ID. Our small, family-owned business offers a personal touch and competitive rates with lower-than-average fees.
Let us walk you through the new home purchasing process.
1. Get Pre-Approved
Before you even start house hunting, you need to get pre-approved for a mortgage. To do so, you'll provide us information about your income and debts, such as credit reports, paycheck stubs, bank statements, W-2 forms, and other financial documents. We use this information to determine how much you can afford to spend on a home.
2. Choose a Program
After you've made an offer on a home, it's time to look at mortgage plans. You'll have to decide how long you plan to live in the home and what payments you can afford. You will also have to consider factors like interest rates and whether you want fixed rates or adjustable rates. Our loan officers can explain the differences between the plans so you know what to expect with each one.
3. Apply for the Loan
Once you've decided on a plan, we will help you fill out the application. Along with the application, you'll need to submit the following if you are a salaried employee:
W-2s for the past two years
Paystubs for one month
If you are self-employed, on the other hand, you'll need to bring:
Tax returns for the past two years
We may also ask you for additional documentation.
4. Close the Loan
The final step is to get approved for your home loan and sign the closing documents. Remember to bring your ID and proof of insurance to the closing meeting.
To get started on your new home purchase financing in Boise, ID, call 208-376-5670.