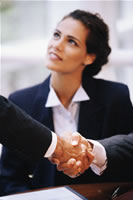 We are always looking for ambitious people with mortgage or related experience and a long term career orientation. With nearly 20 years in the area, local ownership and control, a full slate of products and a stellar ethical reputation we offer the ability to provide our customers the best, most responsive service around.
FNMA Seller/Servicer
FHA Direct Endorsement
VA Automatic
In-house processing, underwriting (manual and DU),closing, funding and servicing.
Delegated underwriting on all other products
Full benefits: medical and dental coverage, 401k